(photo: me on my first birthday, note the baby wallabees and abnormally large cranium. i'd like to think that's a Kool in my
hands, but i think it's just a Newport...)


went to a pool party out in connecticut for work yesterday. felt a little bit like i was in a
cobranskae
photo series, lounging around a pool and drinking beers. 'cept that nobody was wearing
$400 hoodies
. unfortunately, i got violently ill just before we left, which meant that i not only threw up all over the side of
shane
's car but also that when we pulled over to the side of the road i threw up all over a snapping
turtle
. the turtle didn't look
mad
so much as
confused
.
matthew sweet - sick of myself
the stills - animals and insects
####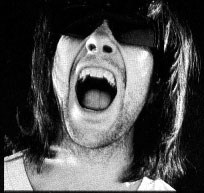 pitchfork really
tore into the new primal scream album
today. justified? maybe, i've only heard a couple tracks. but let's get real, i think primal scream is one of those bands who at this point can do anything and we shouldn't really give a fuck. almost in the same vein as how
alec empire
can get away with his
mille plateaux junk
because he started
atr
.
primal scream - country girl (live)
primal scream - country girl (video)
primal scream - get your rocks off
primal scream - loaded